𝘏𝘪𝘱𝘱𝘰𝘴 𝘩𝘢𝘷𝘦 𝘢𝘭𝘸𝘢𝘺𝘴 𝘣𝘦𝘦𝘯 𝘢 𝘴𝘤𝘢𝘳𝘺 𝘢𝘯𝘪𝘮𝘢𝘭 𝘸𝘩𝘦𝘯 𝘪𝘯 𝘵𝘩𝘦 𝘸𝘢𝘵𝘦𝘳, 𝘸𝘪𝘵𝘩 𝘵𝘩𝘦𝘪𝘳 𝘭𝘢𝘳𝘨𝘦 𝘣𝘰𝘥𝘪𝘦𝘴 𝘢𝘯𝘥 𝘴𝘵𝘳𝘰𝘯𝘨 𝘵𝘦𝘦𝘵𝘩 𝘵𝘩𝘦𝘺 𝘤𝘢𝘯 𝘤𝘳𝘶𝘴𝘩 𝘢𝘯𝘺 𝘢𝘯𝘪𝘮𝘢𝘭.
𝘈 𝘯𝘦𝘸𝘭𝘺 𝘨𝘳𝘰𝘸𝘯 𝘢𝘭𝘭𝘪𝘨𝘢𝘵𝘰𝘳 𝘪𝘴 𝘦𝘯𝘫𝘰𝘺𝘪𝘯𝘨 𝘵𝘩𝘦 𝘵𝘩𝘳𝘪𝘭𝘭 𝘰𝘧 𝘣𝘦𝘪𝘯𝘨 𝘴𝘶𝘳𝘳𝘰𝘶𝘯𝘥𝘦𝘥 𝘣𝘺 30 𝘢𝘯𝘨𝘳𝘺 𝘩𝘪𝘱𝘱𝘰𝘴 𝘢𝘯𝘥 𝘵𝘩𝘪𝘴 𝘪𝘴 𝘢 𝘳𝘢𝘳𝘦 𝘴𝘪𝘨𝘩𝘵.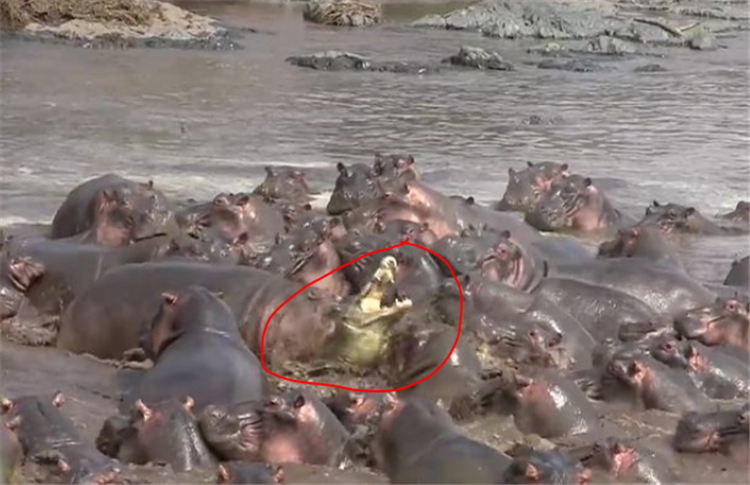 Hippos gather in a large herd and go down to a waterhole to bathe. a newly grown alligator was unable to escape and was trapped in a water hole.
Noticing the appearance of crocodiles in the waterhole, the hippos quickly got angry and attacked the crocodile. Hippos often get angry when anything comes close to them in the water and they want the safety of the newborn hippo.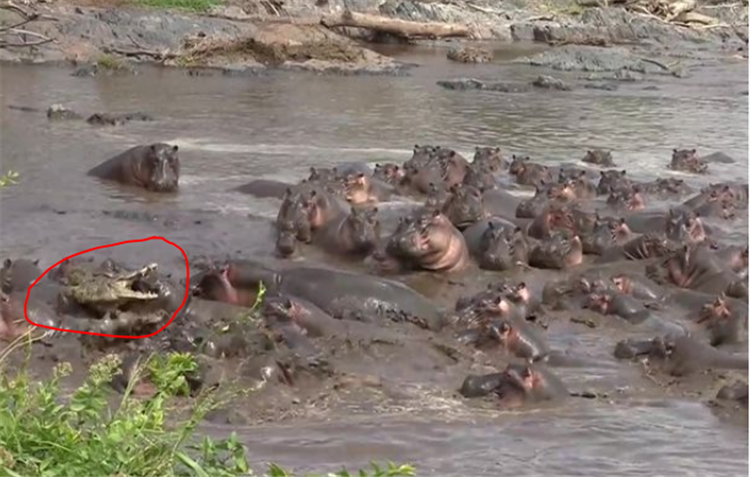 Crocodiles quickly receive painful beatings from hippos. The hippos kept screaming and attacking the crocodile.
Somehow the crocodile managed to survive and stay away from the frenzied battle at the waterhole, it was a terrifying moment that the crocodile would never forget.